Reports and dashboards
Get the business intelligence you need to make the right decisions for your business. With easy-to-use reports and dashboards at your fingertips, SuperOffice makes it easy for you to manage day-to-day operations, improve processes, resolve potential issues and leverage opportunities.
Business insight into your activities
SuperOffice offers a variety of standard reporting options. Create reports on any combination of data – from customers, prospects, activities and sales – and all results are easily exported to Microsoft Excel.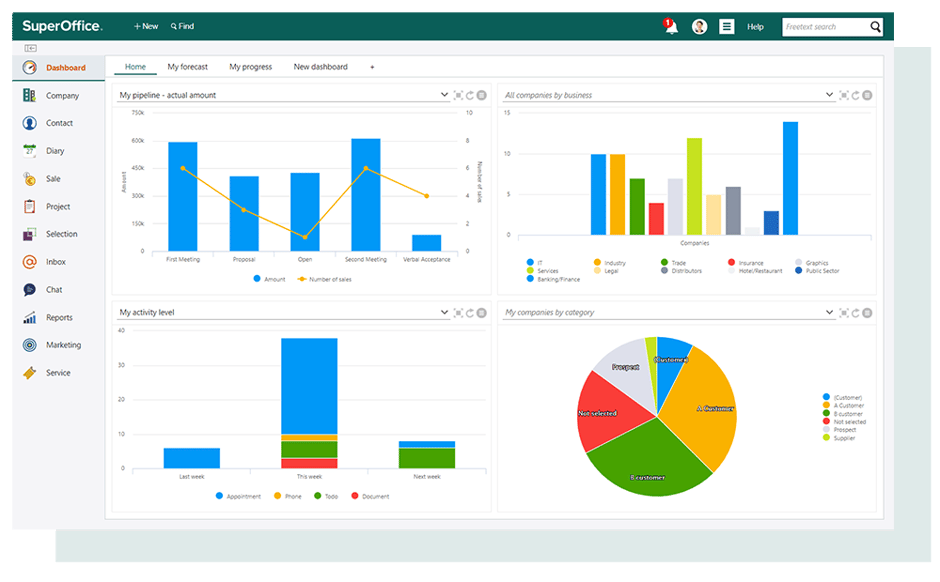 Improve and make informed decisions
Marketing

Built-in dashboards give you the insight you need to improve on future campaign performance. It's easy to track open rates, click through rates and sales results related to your individual campaigns.

Sales

In sales, pipeline management and forecasting are everyday tasks. All opportunities of individual sales people – or sales teams – are right there at your fingertips. Powerful features help you to visualize customers with a need for special care or attention.

Service

Making your customers smile is the responsibility of your customer service team. With our built-in dashboards, you get the overview you need to look into the most frequent customer issues, identify your bottlenecks and make more informed decisions.
Knowledge is power
Business intelligence gives you the power of insight. Business Analyze for SuperOffice is a powerful Business Intelligence tool that helps you make fast decisions based on fact rather than intuition.
Identify trends, motivate employees, share accurate reports and build a strong culture. Every function, from sales and marketing to service, benefits from personalized dashboards, real-time KPI updates and other motivating tools.
Have a question?
We would love to help and answer any questions.
Need more inspiration to grow your business with CRM?
Sign up to our newsletter and get original content filled with practical insights. Let's start growing your business and turning relationships into revenue!