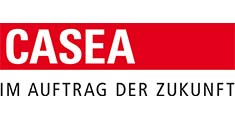 HOW A CRM SYSTEM BECAME THE BRAIN OF THE COMPANY
This is the story of how the German company CASEA GmbH used SuperOffice CRM to:
Improve transparency of customer data
Access the 360-degree view of customers
Increase the effectiveness of its internal workflows and processes
Better identify new business opportunities and customer potential
THE COMPANY
Part the REMONDIS Group, CASEA GmbH specialises in the production and worldwide distribution of high-quality gypsum products. With over 150 years of experience in gypsum mining, its processing and the manufacturing of gypsum-based products, CASEA is a much appreciated partner of industry, trade and crafts.
The company has a wide-ranging product portfolio: from top-class prefabricated building products to needs-based formulations. CASEA is not only proud to offer the best quality products and excellent service, but also for its sustainable use of raw materials.
THE CHALLENGE
As CASEA has never had a CRM system in place, they faced a few challenges.
First of all, they used to struggle with overviewing the basic tasks and tracking core activities. Hence, they realised that they needed a solution that could help them to easily implement standard tasks, such as tracking activities, writing visit reports, creating projects, managing appointments, and processing sales.
"SuperOffice understands how to proactively respond to its customers and their individual needs – from minute one. This direct connection to the customer convinced us both during the acquisition and in the course of the cooperation."
Carsten Ketteler, Managing Director of CASEA GmbH
Secondly, CASEA needed help in managing various projects, tending to different customer groups, and optimizing product distribution.
CASEA's core business is divided into three divisions: industry, screed and prefabricated building products. Its products are usually processed, for example as moulding plaster for the ceramic industry or as a binder for flowing screed. However, for the building sector CASEA also offers finished products, such as gypsum for plastering and for filling.
Since the company's target groups are multiple and diverse, they require a range of products. For example, CASEA not only has to deal with the processors themselves, but also with additional stakeholders in the construction project or property business.
As a result, the company was looking for a solution that would help them offer and keep track of various products for different customers, as well as map construction projects and maintain relationships with key decision-makers.
"Numerous parties come together for a construction project. Understanding and mapping the web of relationships between the individual stakeholders is often a challenge. Using SuperOffice CRM, our aim was to increase transparency at this point by bundling relevant information in one system."
Carsten Ketteler
In addition to managing construction projects, CASEA GmbH also wanted to invest in developing more profitable relationships with new and existing customers. For that, they needed a CRM tool that would ensure access to transparent customer data.
Finally, the company wanted to increase the effectiveness of its processes; for example, by sending standardised offers, centrally recording and processing complaints processes, and standardised evaluations.
To overcome these challenges and achieve business goals, it was decided in April 2019 to start looking for a CRM system.
That system turned out to be SuperOffice CRM.
THE IMPLEMENTATION
The implementation started in June 2019 and went completely smoothly. In September 2019, SuperOffice CRM became the official CRM solution for CASEA.
In order to transfer the existing customer data between the ERP and CRM systems developed by CASEA itself, SuperOffice has developed an interface together with the gypsum specialist.
"Companies – including us – always only see the tip of the iceberg at the beginning. SuperOffice CRM offers numerous functions that we want to successively expand. First of all, it was important for us that the employees master the basics and quickly achieve initial successes."
Carsten Ketteler
THE RESULTS
Since the company started using SuperOffice CRM, the knowledge database around construction projects, as well as the number of new and existing customers has been growing daily.
"SuperOffice CRM is now the brain of CASEA. It protects our corporate values, reveals new business potential and creates precious added value."
Carsten Ketteler
Panoramic view of data and information transparency
Offering a 360-degree view of their customers, SuperOffice is now a glue that holds all activities, interactions and data together, and helps sales reps to concentrate on their work.
The salespeople at CASEA also enjoy using the calendar function in SuperOffice CRM. They can easily schedule appointments, create visit reports and maintain their sales opportunities. Assigned to a specific project, sales opportunities are now visible at a glance.
At the same time, CASEA salespeople now use selections to filter projects by interests, location or status in the sales cycle. Practical to-do lists and automated alerts help them plan sales activities effectively and work through them in a step-by-step manner.
The transparent and easily accessible information, as well as comprehensible communication, help the sales department at CASEA to prepare customer meetings quicker.
Simplified complaints process
In addition, SuperOffice CRM helps CASEA to simplify the management of customer complaints and queries and, in this way, improve customer satisfaction rates.
The entire complaints process is now organised in the CRM system. If a customer contacts the field service or the customer service department with a concern or complaint, the responsible employee creates a ticket.
You can see how the handling of a customer's query has progressed and who is responsible for resolving the issue in SuperOffice CRM. In this way, all enquiries are handled in a more targeted manner – which has positively affected the overall customer satisfaction.
Tapping into international markets
In order to better position itself for the future, CASEA took over a plant in Spain in October 2020, thus opening up its first location outside Germany.
SuperOffice CRM is also used there to create offers and close sales.
"SuperOffice CRM is an extremely valuable tool not only for our four locations in Germany. So in the next step we want to use it to increase sales opportunities in Spain and tap into new potential internationally."
Carsten Ketteler
THE SUCCESS
With SuperOffice CRM, CASEA has succeeded in bundling knowledge from various sources – be it the heads of the employees, their email inboxes or other applications – into one central location.
In this sense, the CRM system has become the corporate brain.
Thanks to SuperOffice CRM, CASEA has achieved its defined goals of making customer data transparent for all employees and increasing the effectiveness of key processes.
CASEA now also benefits from professional pipeline management, as sales teams are able to control, monitor and forecast future sales with improved precision.
At the same time, the increased transparency and better streamlined workflows reduce the need for internal coordination. This helps to save time and rather use it on other important tasks, such as deepening and maintaining customer relationships.
"The fascinating thing about a CRM system is that the customer doesn't even realise that he or she is at the centre of everything we do. SuperOffice CRM brings us closer to our customers and their potential. In the future, we will aim to use it as a single system for all marketing and sales activities."
Carsten Ketteler