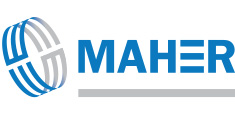 HOW MAHER OPTIMISED THEIR CRM SOLUTION
This is the story of how Maher – a UK alloy supplier – significantly increased their return on investment (ROI) by expanding their functionality. And they did it by migrating from their SuperOffice CRM on-premises solution to SuperOffice CRM in the cloud.
This transition enabled the business to:
lower the total cost of ownership,
increase the impact and utilisation of the solution,
reduce the burden on the support team, by having direct access to a team of experts who understand the SuperOffice product and the cloud environment,
access a continuously maintained and upgraded CRM platform,
prioritise their technical resources on alternative projects.
THE COMPANY
Since 1932, Maher has provided high strength, high performance alloys and machining to the most demanding global environments. As the company continues to grow, so does their requirement for a modern and scalable CRM solution, which can adapt to the evolution of their needs.
THE CHALLENGE
Maher wanted to realise a greater ROI. For many years, their use of SuperOffice CRM had revolved around contact management. Following an extensive CRM evaluation process, they decided to take the first step by maximising their use of the solution's sales functionality.
"When we really started getting into SuperOffice, it was like opening up a whole new world of understanding in relation to sales performance and forecasting."
In addition to making use of SuperOffice's sales functionality, an integral part of Maher's strategy was to take their processes to the next level by migrating SuperOffice CRM from their own servers to the SuperOffice cloud environment.
"Moving from SuperOffice CRM on-premises to SuperOffice CRM in the cloud was so stress free."
THE RESULTS
Maher's decision to migrate and optimise their CRM solution has enabled them to better support several key business processes across the company, from quotes and sales analysis, through to stock control.
"If Maher weren't able to use SuperOffice CRM today, this would have a severe impact on multiple aspects of the organisation."
Furthermore, they are now enjoying a significantly lower total cost of ownership because SuperOffice CRM in the cloud is accessible at any time, is always maintained on the latest version, and is supported by a team of experts who fully understand the SuperOffice product and environment.
Also, the ability to adapt quickly and efficiently has proved invaluable throughout the COVID-19 pandemic, which has significantly increased the adoption of SaaS cloud solutions across the world.
"Having SuperOffice CRM in the cloud, enabled us to transition into home working with ease. If a business is suddenly required to scale up or to pivot in response to a situation, you can do this much more easily within a cloud environment."
THE FUTURE
Having enjoyed a seamless migration process of their existing SuperOffice CRM database to the cloud which "put simply, was a breeze," combined with a greater use of SuperOffice's sales capabilities, the next step in the Maher's evolution is to develop the customer service functionality, to better support interdepartmental communication.
"Right now we are working on developing the Service module for our logistics and shipping team. And then, we'll move on to the Marketing project. The migration journey has been such a massive leap forward for us, that the scale of positive change is immeasurable!"