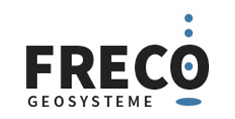 The Challenge
The company FRECO Geo-Systeme from Wörth am Main is a long-established, innovative sales professional in the field of geo-synthetics, waterproofing, gabions and noise and erosion protection.
Freco supports the construction industry in the planning and implementation of projects of all sizes. They act as a kind of intermediary between customers and suppliers. This does not include sales tasks only, but also technical consultancy. Complex projects are co-supervised locally. Over time the product range and the application areas have constantly expanded. They have been growing steadily over the past 25 years through problem oriented, project related product development and consulting, and now represent the key areas of construction. The order volume has grown from a few hundred thousand to double-digit millions.
The Solution
With their challenges and their constant growth, the question arose as to how sustainably represent all information in one system, create projects, generate quotes and stay organized.
The first contact with SuperOffice was made through an IT consultant who highly recommended SuperOffice. After having had a first look at the system, it became clear that SuperOffice CRM offered exactly the features that were needed. Furthermore, it could be seen that a lot of development potential still exists.
The Results
Freco have used SuperOffice CRM almost since the beginning, for more than 20 years. Every employee in the company is working with SuperOffice.
"There is no other way than a CRM system to keep control of our around six and a half thousand customer records with more than 26,000 people", Matthias Schreck says, CEO of Freco Geo-Systeme Vertriebsgesellschaft. They are working a lot with projects and also make sales visible with the system. Since SuperOffice has been used for so long the employees have retained some old habits when it comes to using the system. Of course SuperOffice now offers several ways to do things like e.g. the sales function. Freco is conscious of this. At this point the benefit of SuperOffice is that you get everything you need for your daily work while the system can be flexibly adapted to your way of working - and not vice versa. SuperOffice also contributes to the good teamwork within the company. The operation is structured and everyone can always see precisely which employee is doing what. This results in great benefits for the cooperation within projects. "There is no need to search in folders as in the past" says Matthias Schreck and he adds that employees state that SuperOffice saves them about 30 % in their daily work. This gives them more time for other things.
Flexibility
Clarity
Transparency
Time savings of about 30%