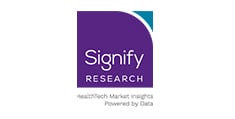 The Challenge
Signify Research works with high-tech, well respected household names providing expert market insight.
Although clients are multinationals, there is only a small number of people in the world who are potential customers. Signify Research will only send 100% relevant information to individuals. Granularity of information, integrated contact management and marketing are everything.
Offering standout market research in terms of expertise in the technology industry, Signify Research had to differentiate itself from a large competitive crowd jostling to win the same collection of global giants.
"In our first year of business, we won customers by sending them sample market insights that were of direct and immediate relevance to their activities. The quality of our research stands out and won us sought-after brands within our customer base. However, the detailed targeting needed couldn't be managed in spreadsheets, so we looked for a sophisticated solution that would grow with our company," explained Simon Harris, Managing Director of Signify Research.
Following an aggressive growth plan to add ten to the company head count over two years, the leadership team looked at potential solutions.
The Solution
Unfortunately, all solutions they investigated lacked the level of data integration between contact management and marketing modules – until the team found SuperOffice.
"The level of detail we needed included customer preferences, historic interactions, internal relationships in each customer organisation, projects and objectives along with other role-specific information. All customer communication depended on this information.
"With more than one person serving each customer account, and with each customer organisation having multiple touchpoints, it would be inefficient if two people called and asked similar questions within a short space of time. Also, sending a market insight that was irrelevant to an individual's objectives could close doors on opportunities. We were asking a lot," added Simon.
Database retention – that is, discouraging people from opting out, and appealing to others to opt in – will become more challenging in 2018 with the advent of GDPR. Companies serving niche markets can't afford their databases to shrink by losing uninterested contacts; instead, they need to make them grow, which will require a record of each individual opting in to specific campaigns. Purchasing lists will become a thing of the past.
SuperOffice stood out because it accommodates all of Simon's requirements.
"We were initially concerned about being a UK company using a Scandinavian supplier. However, it's not been an issue, and the support has been excellent. They're also keen to base product development decisions on customer requests," said Simon.
The Results
"Because we're highly specialist with a low volume of prospective clients, every interaction counts – we have to get it right. SuperOffice plays well to this: it helps us to be organised to ensure we maximise the relatively small number of opportunities within our marketplace," said Simon.
SuperOffice has changed staff workflow. Before speaking to a customer, staff look at all recent interactions between the customer organisation and Signify Research, to avoid replication.
"SuperOffice has enabled us to be extremely prepared each time we pick up the phone. Customers like this because we can cut to the chase and not waste any time," commented Simon.
New functionality has also enhanced international marketing. For example, SuperOffice's integrated email broadcasting module enables Signify Research to send out campaigns in batches, according to which time zone of the world they are destined for. Each batch is timed according to when prospects are most likely to be at their desks to open the emailed market insight newsletter.
The email campaign analysis tools have enabled the marketing team to experiment with different headings, content styles and timings to improve results.
"SuperOffice gives us campaign data on which we can base decisions. As a result, we've made quite a few changes to the look and feel of our e-newsletter," concluded Simon.
SuperOffice is licence-based, so it'll grow with each business it serves.
Efficiently facilitates General Data Protection Regulation (GDPR) compliance
Enables unprecedented, detailed targeting of marketing campaigns
Totally integrates CRM with marketing management
Provides a holistic view of each contact and their working environment
Facilitates accurate customer service and sales communications
Improves efficiency
Improves staff workflow, customer knowledge, and decision-making accuracy
Campaign scheduling facilitates timely delivery to multiple time zones
Intuitive and easy to use
Licence-based model for 100% scalability