Companies that put the customer at the heart of their business grow faster and are more profitable than their competitors.
The biggest key to their success is that they focus on the customer journey.
What is the customer journey?
The customer journey is the complete experience a customer has with an organization. It encompasses all customer interactions across all channels, devices and touchpoints throughout every stage of the customer lifecycle – from awareness to loyalty.
Companies use a wide range of channels to communicate with their customers, but often fail to connect each activity with the customer journey. Sales and marketing strategies become isolated from one another and this leads to a disconnected customer experience.
Yet, for companies that do have a formal customer journey strategy, the evidence is compelling.
An Aberdeen Group research paper found that companies with a formal customer journey program enjoy a year over year growth that includes faster sales cycles, reduced customer support costs and a 50% greater return on marketing investment (ROMI).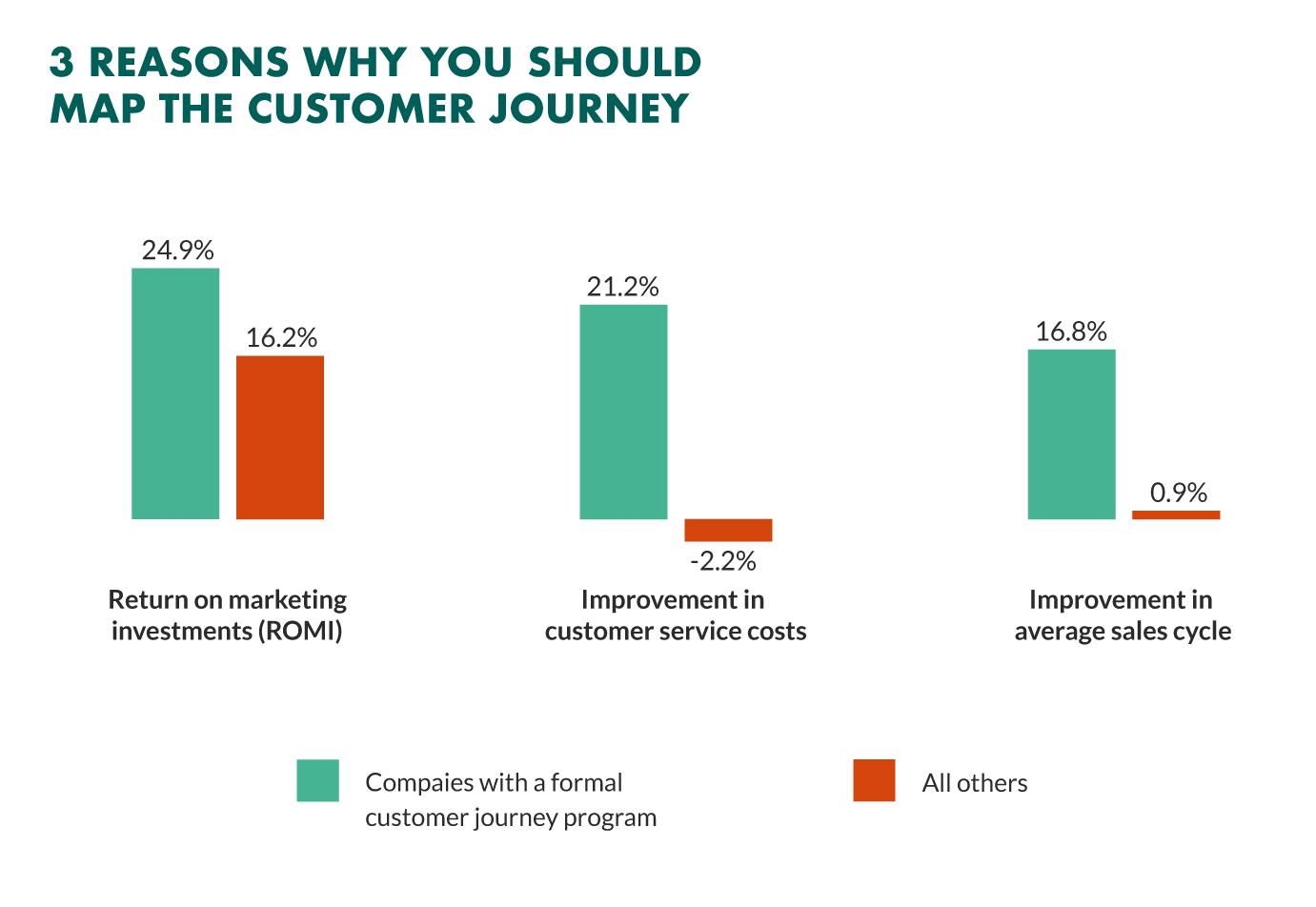 The good news for you is that only 36% of companies have a process to map out the customer journey phases, which makes this a huge opportunity to create a competitive advantage for your business.
But what are the customer journey phases?
The customer journey phases
The customer journey is to be drawn out from your customers' point of view.
This means that you put yourself in their shoes and think like a customer.
Once you understand the needs of your customer in all stages of their lifecycle – you can then meet and exceed their expectations at every phase.
The customer journey consists of 7 phases: out-of-market, trigger, initial brand consideration, active evaluation, purchase decision, experience, and loyalty.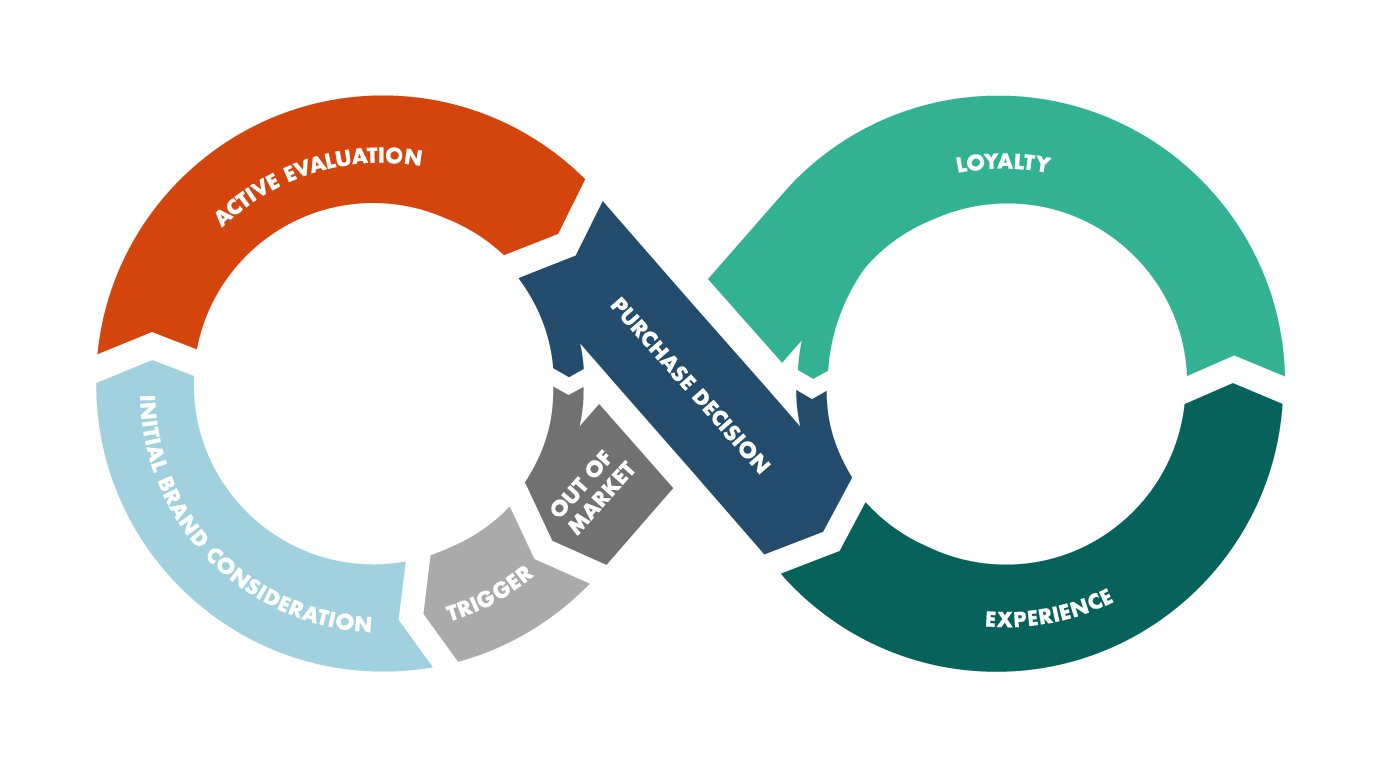 Let's take a look at each phase (and the customer's mindset) in more detail – starting with the out-of-market phase. In this example, we'll be viewing the customer journey from the perspective of a B2B buyer.
1. Out-of-market phase
In the out-of-market phase, the customer is looking to improve their business. They want their company, department or team to be more productive and more efficient. At this phase, they may not know how to achieve these goals, but they are open to inspiration.
2. Trigger phase
The trigger phase begins once the customer uncovers the opportunity to grow their business. It could be that sales are going down or that customer complaints are growing, but these indicators act as a trigger to changing the way they work.
3. Initial brand consideration phase
Once the customer identifies a solution to their problem, they will begin their initial search. A project group, involving all stakeholders will be formed to identify the top brands in their market, to scope the project and to review key functionality and technical requirements – leading to a "long list" of potential solutions.
4. Active evaluation
The long list becomes a short list once the initial brand review is complete. The customer will then contact each vendor and invite them to a meeting or a demo. After the demo, the customer will review solutions based on trust, expertise and scalability.
5. Purchase decision phase
The customer chooses a vendor, agrees on a solution and signs the contract. The implementation process begins and an internal "roll out" team is formed. With support from the solution provider, the customer outlines success criteria, KPIs and launch timeline.
6. Experience phase
The customer wants to get the solution up and running quickly and for the launch to be as smooth as possible. This involves making sure all users are fully trained and have access to a consultant or account manager for support (when they need it).
7. Loyalty phase
After the initial roll out, the customer is happy to see fast results. The provider continues to follow up, implements the solution company-wide and and continues to help the customer reach their goals.
The customer touchpoints
If the customer journey is the mindset of a customer, the customer touchpoints are the path he/she takes to engage with a company at each phase.
Mapping the touchpoints, and putting the right content assets and distribution channels to each phase of the journey is one of the most important factors of future digital initiatives, according to a survey by Regalix.
In the example below, we'll explore the touchpoints based on a journey for a B2B customer.
Out-of-market: Open to inspiration, the customer attends industry conferences, reads thought leadership content and stays updated on new trends via social media.
Trigger: Being proactive, the customer uses Google search, video platforms (i.e. YouTube) and reads more niche blogs.
Initial brand consideration: With a long list of providers, the customer visits company websites, comparison sites and review platforms.
Active evaluation: Trust is important, so the customer downloads research papers from the vendor, reads in-depth case studies and customer references. Before requesting a live demo.
Purchase decision: Dealing directly with the sales team, the customer signs the paperwork.
Experience: The implementation phase begins, and the customer is given access to onboarding material, which includes user guides, training documents and product videos.
Loyalty: The solution is rolled out company wide and when needed, the customer has access to phone and email customer service teams, live chat on the website, self-service support and a knowledge base.
It's, of course, a simplified version of the customer journey and its key touchpoints. But it shows how important it is for a company to be actively present where its potential and existing customers are.
Do you actively speak at industry conferences?
Is your business listed on vendor comparison websites?
Is your website visible in Google search?
If you answered 'No' to any of the questions above, then chances are that your potential customers simply won't find you.
Said another way…
If you don't base your strategy on the customer journey, then you will lose out on new business.
Gap analysis framework
Now that you have drawn out the customer journey and touchpoints from your customers' perspective, you can now map out the current customer touchpoints from your own perspective, based on your existing business strategies and how you communicate with them today – allowing you to identify the gaps.
A simple table can work for the gap analysis exercise.
For example, today we use direct mail to reach out-of-market buyers and use social media as a way to engage with prospects in trigger phase.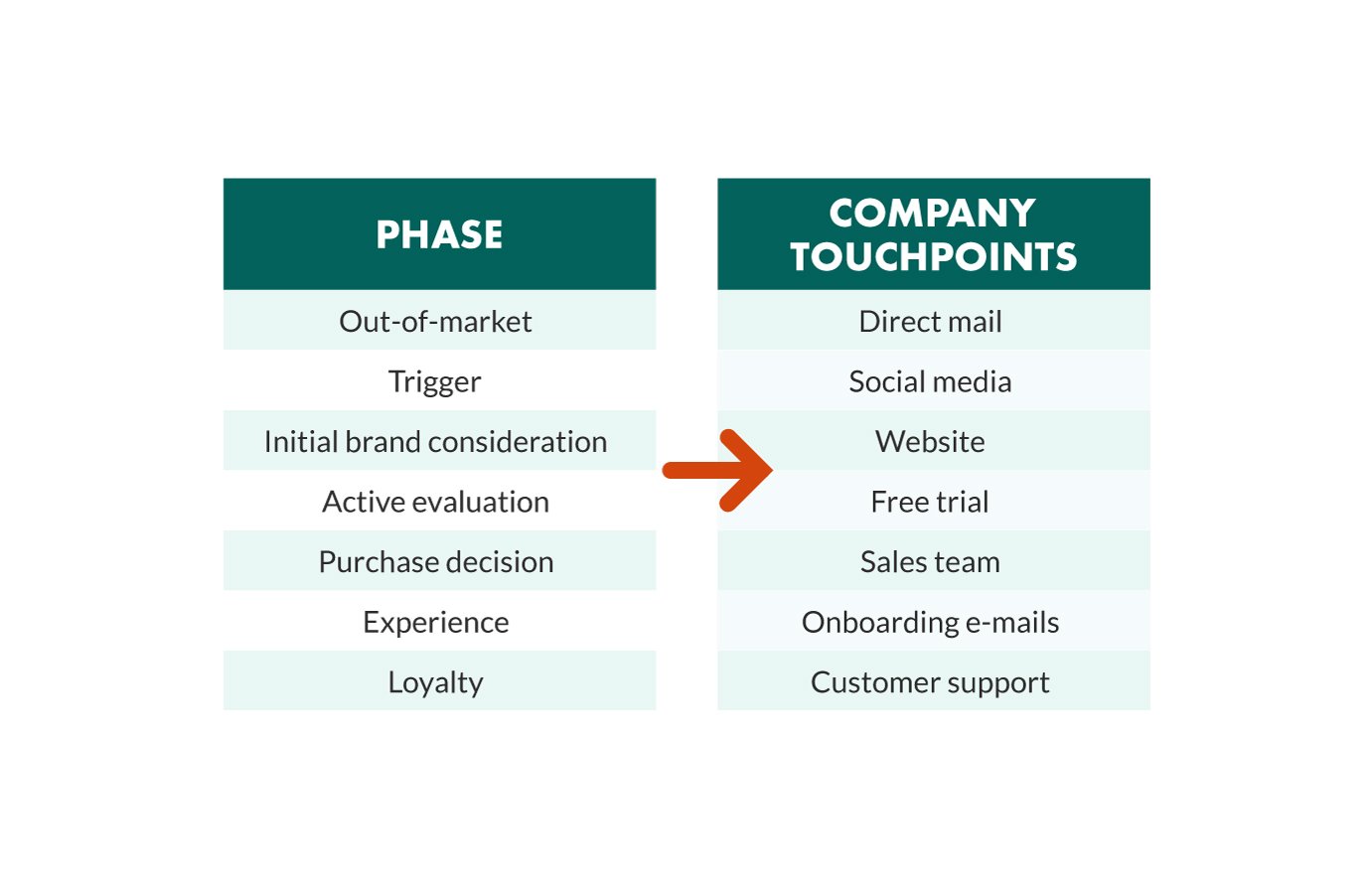 Once you have mapped out existing touchpoints, you can then layer them on top of your customer's touchpoints, which provides you with an overview of what you're currently doing today versus what you should be doing to reach your potential and existing customers.
Now, if you're a customer-centric company, you should get an exact match with your strategies lining up exactly with the customer journey. Sales and marketing are aligned, customer churn is low, and your customer base is happy and loyal.
However, if you're not customer-centric, there will be a mismatch in activity and expectations.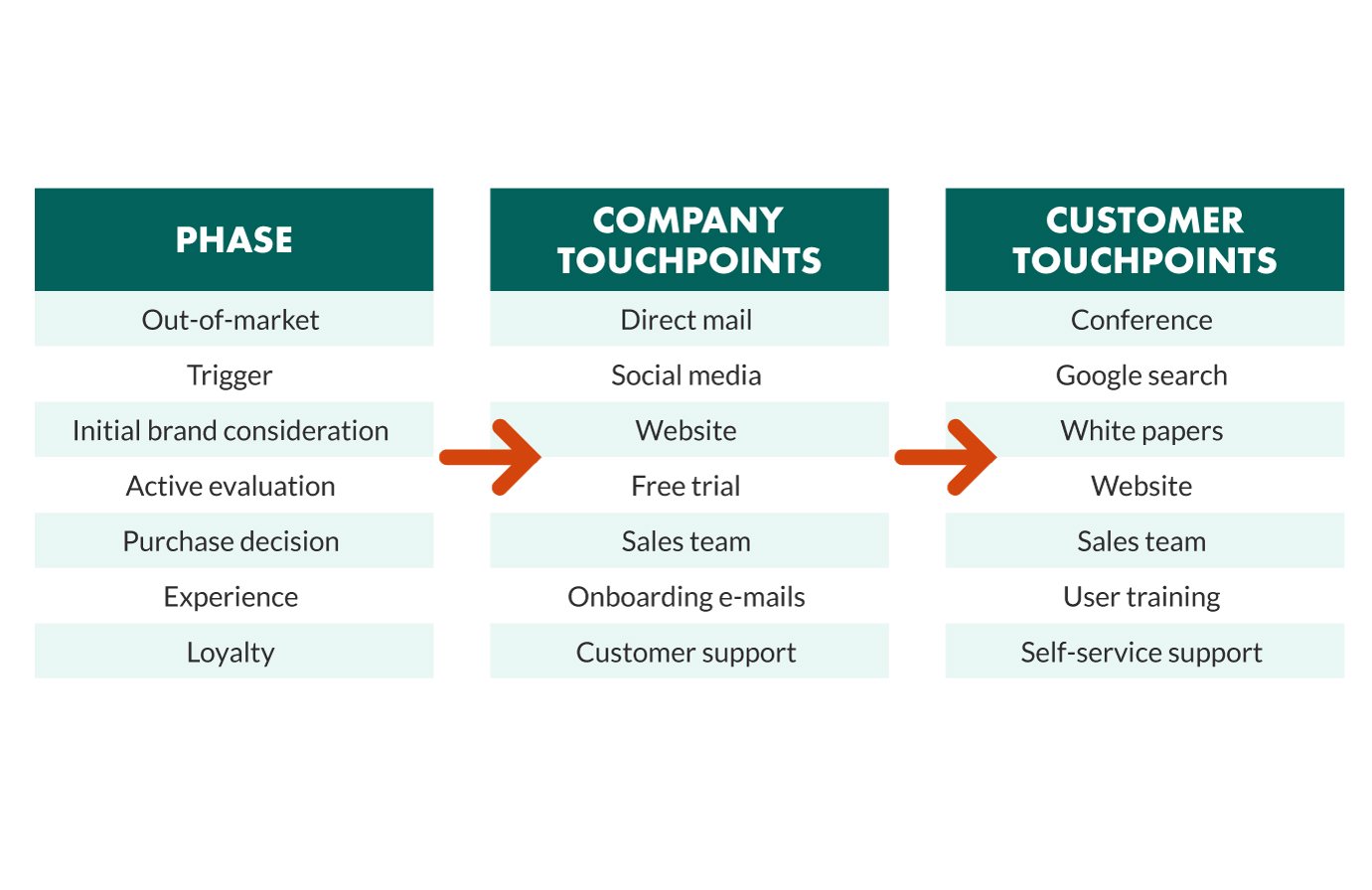 What's likely to happen is that you will notice two key points:
You are spending too much time on activities that don't impact the customer journey.
You are spending too little time on activities that do impact the customer journey.
Based on this, you need to prioritize what you do based on what's more important – activities that align with journey versus activities that don't align with the journey.
Now, here comes the easy part:
Stop focusing on activities you are currently doing that have no impact on the customer journey and spend more time on activities that do impact the customer journey – because the more often you can meet the customer at each stage of the journey, the more likely they are to do business with you.
Conclusion
The power has completely shifted from brand to consumer.
And while the customer journey might be a new term, it won't be long before it becomes critical to your business strategy.
Putting the customer at the heart of your organization is no longer a "nice to have", it's an entry level requirement to having a successful business in 2019.
Today, two out of three companies do not map their strategies to the customer journey – giving you a huge competitive advantage, if you take it.
For those companies that have a customer journey strategy in place, they've been able to reduce costs, improve sales performance and are overall much more profitable.
Next steps
CRM and the customer journey both revolve around putting the customer first.
If your current CRM system is preventing you from reaching your business goals, then contact us today for a free consultation to learn more about how SuperOffice CRM can help you put the customer at the heart of your business.