In order to create loyal customers, you need to deliver excellent customer service.
But how many companies do you think deliver excellent service?
In a study titled "Closing the delivery gap", Bain & Company surveyed 362 firms and found that only 30% organize the functions of their company to deliver superior customer experience.
But more importantly, the study also found that 80% of companies believe they are delivering a superior service. And yet, only 8% of customers believe that they are receiving excellent service.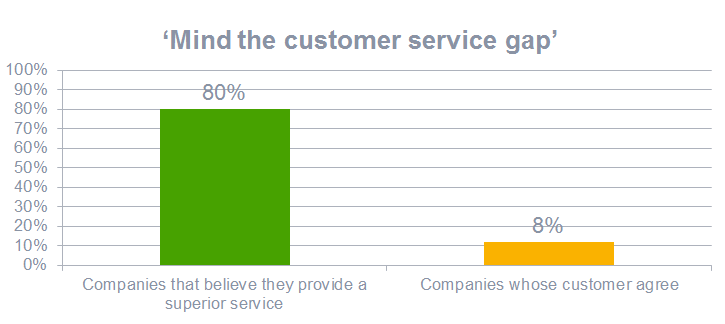 That's a huge difference!
With that in mind, we wanted to identify how many businesses actually deliver excellent service and so we created a new study: The Customer Service Benchmark report, which is a study of how 1,000 companies handle customer support.
Key finding: The majority of companies are failing to meet customer expectations!
However, there were several companies that stood out from the rest of the group. These companies, what we consider best in class, were able to deliver high quality support. For these companies, providing great service is not just a buzzword, it's the lifeline to their organization.
7 best in class customer service tips
We've highlighted 7 common tactics from the top 10 best in class customer service companies below. By implementing them into your customer service procedure, you too will become best in class.
1. Reply to all customer service questions
The average response time for the top 10 companies was 2 hours, compared to the overall response time, which was 12 hours and 10 minutes. This means that the right department quickly received the request and was able to handle it accordingly.
To do this, start out by setting up rules in your customer service software, or Outlook, to allow you to automatically forward a request to the correct department. Remember that when a customer asks a question, don't ignore it. If you ignore your customers, they will ignore you, and eventually shop elsewhere.
2. Use automated responses to acknowledge a support request
Best in class companies let you know that your customer support request has been received and is being handled. So when a customer contacts the company, whether through a web form or email, make sure that an automated reply is sent to the customer to acknowledge receipt of the email.
In the acknowledgment, use an email template that includes customer support working hours, a unique request ID for tracking the request and supporting links to a self-service knowledge base or online FAQ.
3. Follow up to see if the customer is happy
As so few companies follow up with customers, following up is easy opportunity to get ahead of the competition. Just like an automated acknowledgement, you can set the follow up to be sent 3-4 days after your response to see if the level of service is satisfactory.
4. Answer all questions in the first response
The top 10 companies all scored 100% for first contact resolution, meaning all questions were answered in full.
Whether there is a single question or several questions within an email, good customer service is about answering all questions upon the first attempt. If you cannot answer all questions, respond with the questions you can answer and then include a note that you follow up with the customer on any outstanding issues.
5. Make it easy for the customer to contact support
Every single company that made the top 10 had an email address clearly visible on the home page of their website, making it very easy to contact them, as oppose to hiding it deep down within the website. Making the email address visible also adds an element of trust, as the company shows it's not afraid to hear from their customers.
6. Focus on quality, not quantity
Customer support reps are judged based on the number of emails they answer and close. This approach lowers quality and the incentive to deliver a great service is lower than delivering a fast service.
Research shows that customers prefer quality over speed. The top 10 companies all scored highly in their replies, even though some of the companies took several hours to respond.
A high quality answer is always better than a low quality answer, even if the high quality response takes longer to compose.
7. Use customer service tools to empower your team
The companies that deliver great service are able to do this because they have the tools and processes to do so. Customer service software allows you to set up internal process that will help you acknowledge, track, manage and report on all customer service requests, which in turn helps you to answer and respond to more customer requests.
Conclusion
So there you have it!
We've outlined seven best in class customer service tips taken from a study of more than 1,000 companies. Achieving great customer service is not rocket science so if you want to become best in class, then you need to remember to:
Respond to all customer service questions
Inform the customer that their email has been received
Follow up with the customer
Answer all questions on the first response
Make it easy for customers to contact you
Focus on quality, rather than quantity
Use customer service software
If you want to get started with the right customer service solution, a solution that is used by best in class companies, then check out SuperOffice for Service, which is now available for a free trial.