Email marketing outperforms every other marketing channel when it comes to generating revenue.
A study by Webmarketing123 found that 1 in 3 B2B marketers cite email marketing as the channel that has the biggest positive impact on revenue – making it a clear winner, and almost twice as effective as the next best marketing channel (SEO).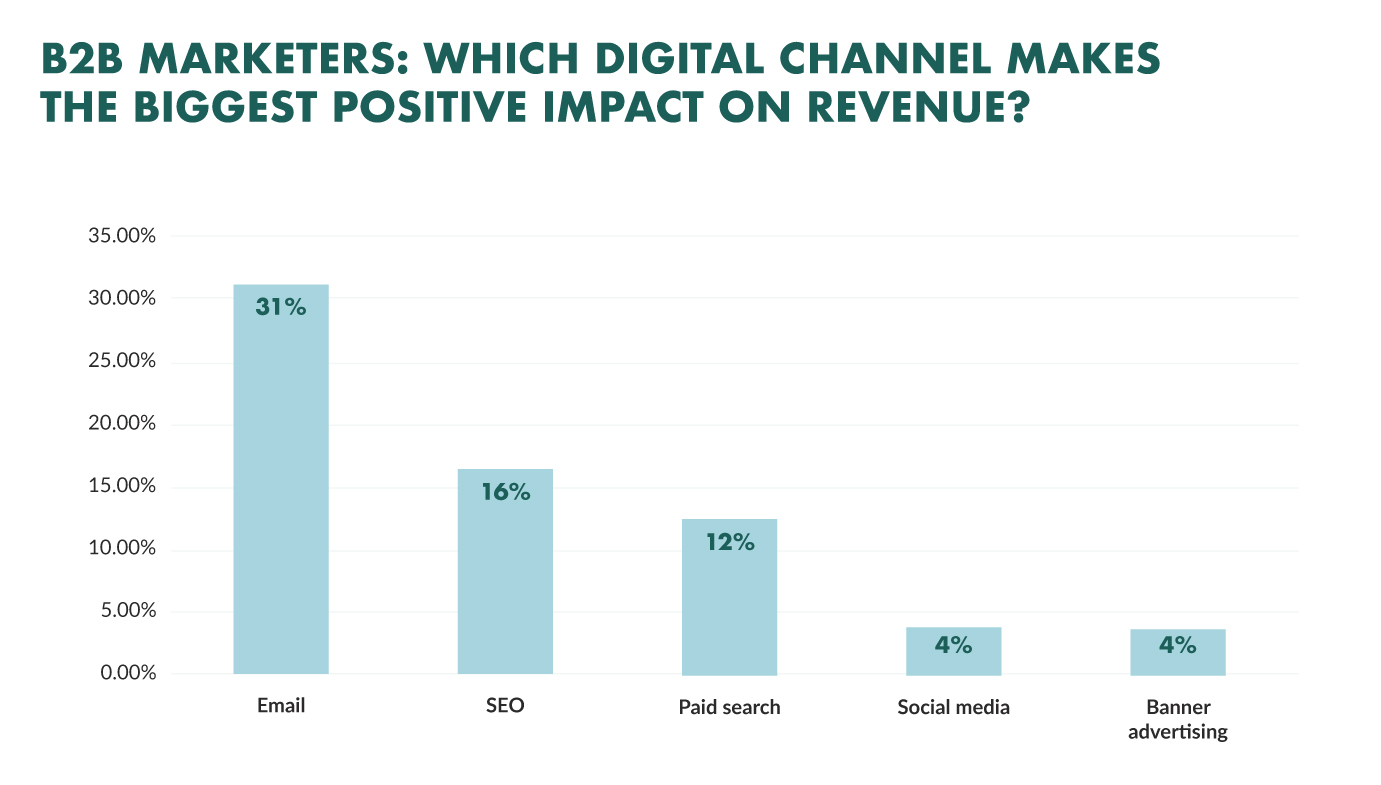 Email marketing can deliver great results for your business. However, this doesn't come without its challenges.
One of the biggest challenges facing B2B marketers that use email marketing is the concern that their emails won't be effective.
It's not surprising, given how competitive your subscribers' inbox has become lately and the recent privacy changes relating to email marketing and GDPR.
That being said, one thing needs to cleared out – you can succeed with email marketing. You just need to find the right strategy!
In this article, we'll show you 7 ways to help you get started with email marketing.
1. Make a plan
Before you create an email campaign, you need to make a plan.
Creating a plan will help you clarify your goals, your approach and even outline what follow-up emails you'll need to send. So, what should your plan include?
Here are a few questions you can ask yourself before you begin:
What are your goals?
Who is your audience?
How often will you send emails?
What content will you include in the campaign?
How long will the campaign last?
How will you measure success?
Your plan doesn't have to be too detailed. If you're short on time, bullet points are ideal. The goal here is to have your plan written down so you can refer back to it when needed.
2. Keep your campaign simple and structured
A common email tactic is to include several messages in one campaign in order to capture as much interest as possible.
But, here's our advice:
Do the opposite!
Keep your messages concise, easy to read and relevant.
If you have never written an email before, don't worry - Jack Price's "Four Ps" of Persuasive Email Copywriting is a great place to start.
The premise is simple. The four Ps help you create a structure for your email campaign that helps capture your readers' attention, and evoke a response. They are:
1. Promise
2. Picture
3. Proof
4. Push
Start by promising your customers something - a solution to their problem, for example. Then use language to help the reader build a mental image.
Next, offer proof, such as case studies or testimonials.
And finally, be very clear about what the reader should do next. This means, include a link to buy a product, or offer an alternative action such as a free download for those who may be hesitant about buying.
3. Test your emails
There are a number of ways to test your email campaigns. It doesn't have to be expensive or time-consuming, but every email should at least be reviewed by a colleague before you hit send.
It is also important to test your emails on different platforms. How do they read on tablets and mobile phones? Do the images display correctly in all email clients?
According to Constant Contact, 61% of all emails are now opened on a mobile device, and this trend is not slowing down!
Customers will continue to use multiple platforms to access emails and you need to make sure your emails are readable for each device.
4. Time it right
Customers read emails at different times and for different reasons. So you need to get your email into their inbox at the time they are most likely to read it. To begin with, put yourself in your customer's shoes. Think about whether your customers open their emails first thing in the morning, or perhaps from their sofa at the end of the day. This affects when you will send your email.
Try sending emails at different times of the day and on different days of the week to determine what works best for you and your customers.
If you decide to send your email campaign out during the work week, our own research has found that Tuesday has the highest open rates, and more emails are opened in the afternoon (after 2pm).
5. Personalize your emails
Your customers may share similarities, but really, they are all very different. And everyone likes to be treated as though they are special.
You can achieve this by using CRM software.
Using the CRM software, you can insert personalized elements into an email campaign in order to make it look tailored to each recipient. How much you personalize your email campaigns is up to you, but you can personalize emails to include:
Name
Location
Purchase history
Last login date
Recent activity
6. Ask permission before sending emails
Permission-based marketing has increased in relevance in the past few years and is now standard practice. What is permission based marketing, you ask?
Not only is it polite to ask customers for their permission before you start sending emails to them to promote your product or service but, it's also a requirement specified in the GDPR regulation that came into effect on 25th May 2018.
Marketing guru, Seth Godin, summed up the practice of permission-based marketing way back in a blog post from 2008, and it still holds true today – over a decade later!
"Permission marketing is the privilege (not the right) of delivering anticipated, personal and relevant messages to people who actually want to get them... [It] is like dating. You don't start by asking for the sale at first impression. You earn the right, over time, bit by bit."

Permission-based marketing requires you to ask customers to opt-in to your emails, as opposed to buying email lists that contain thousands of email addresses from people who have never heard of you.
Although building an email list is more time-consuming, you will get a much better response rate because these subscribers actually want to hear from you.
7. Measure the results
As with any marketing channel, you need to measure the results of your campaigns. You can gauge the success of your email using these email marketing key performing indicators (KPIs):
Deliverability rate
Open rate
Click-through rate
Deliverability rate is calculated by the number of emails that have been sent compared to the number of emails that have been delivered to your email subscribers. An email might not be delivered if an email address has been deleted or is not valid.
Open rate is calculated by the number of emails that have been delivered compared to the number of people who open it.
Click-through rate is calculated by the number of emails opened compared to the number of people who click on a link or image within the email.
By tracking these key performance indicators, you are able to identify what works best in your email campaigns. For example, if you find that an email campaign with a short subject line has a higher open rate compared to a campaign with a longer subject line, try using shorter subject lines in the future.
Conclusion
The key to being a successful B2B marketer is to use your time and resources on activities that give you the best results.
One activity that can give you good results and doesn't require a lot of money is email marketing.
Email marketing allows you to get close to your customers in a way that no other marketing channel does.
Use email marketing to engage your customers. Send them emails they want to open – an email that will make them take action.
And if you find that your email campaign doesn't work the first time, take comfort in the knowledge that even the biggest and best organizations get it wrong.
Simply measure, test and… try again!
Are you looking to get started with email marketing?
SuperOffice Marketing. Request a free demo here.