The way that companies handle customer communication has changed dramatically in recent years. Prior to the World Wide Web, the only way for a customer to contact you was by phone or direct mail.
Today, new channels have emerged and as consumers become more tech savvy, businesses are now finding themselves engaging with their customers through a wide range of digital platforms, such as web forms, email, self-service, forums and social media networks.
The biggest challenge to serving your customers in several communication channels is response time. Customers demand immediate service and response times of "within 24 hours" are no longer acceptable.
The rise of instant communication
In a world of instant communication (i.e. Skype at work, Facebook Messenger at home), you now need to serve your customers in real time too. This is why many companies have turned to offering live chat as a communication channel on their website.
Not only is live chat fast and easy to use, but adoption rates on usage are climbing too. The number of consumers that use live chat over phone and email support have increased by 50% since 2012, according to a report by Forrester.
In fact, live chat has been so well received that it is now the most preferred customer communication channel, according to a study by [24]7.
Companies that invest in live chat support do so to create a better customer experience, which is achieved through real time conversations online. However, this is only achieved if there's someone on the other end to respond. If no one responds, then customers become frustrated. And this leads to a poor a customer service experience.
But, how often are customers left waiting when they use chat support?
And how are companies using live chat support to improve the customer experience?
That's what we wanted to find out.
Live chat support study
Today, we're proud to release the findings from our new live chat support study, which includes the results of how 1,000 websites use chat to better serve their customers.
The study, which involved companies based in the US and Europe, includes both business and consumer-facing websites. To keep the study fair, we only initiated a chat during a website's support hours and only when chat was available and online.
During each chat, we only asked questions that were specific to a business. For example, ecommerce stores were asked questions about shipping and handling, while software companies were asked questions relating to free trial offers. After each chat was completed, we rated the quality based on response time, wait time and overall chat experience.
Key findings
Here are the key findings from the study:
21% of live chat support requests are not answered
The average wait time for live chat support requests is 2 minutes and 40 seconds
55% of companies do not offer transcripts once a chat has ended
23% of companies do not ask for contact information before a chat begins
The average handle time for a chat request is 6 minutes and 50 seconds
45% of companies do not ask users for feedback once the chat has ended
What does this research mean?
Chat is the most preferred customer communication channel. Before the study, we hypothesized that each time we used chat to communicate with a business we would be on the receiving end of a good customer experience.
However, the latest findings from this study show that this is not the case. No response and slow wait times are frustrating. And long chat handle times are the result of a constant back and forth between agent and customer; just to answer a simple question ("Do I need a credit card to sign up for a free trial?").
Rather than the positive experience that many customers expect, live chat is failing to meet the basic needs of good customer service.
How to use live chat support for your business
There are lessons to be learned from this research. If live chat is part of your customer communication strategy, then making sure that all chats are answered, and quickly should be a priority.
Let's take a look at some of the most important statistics from the study and see how you can use them to improve quality of customer experience.
1. Prioritize all live chat requests
The biggest customer frustration is contacting a company multiple times for the same reason. This frustration begins when a customer contacts a company and receives no response.
Therefore, you have complete control in preventing customer frustration.
All you have to do is respond.
Unfortunately, 1 in 5 chats were ignored and not answered.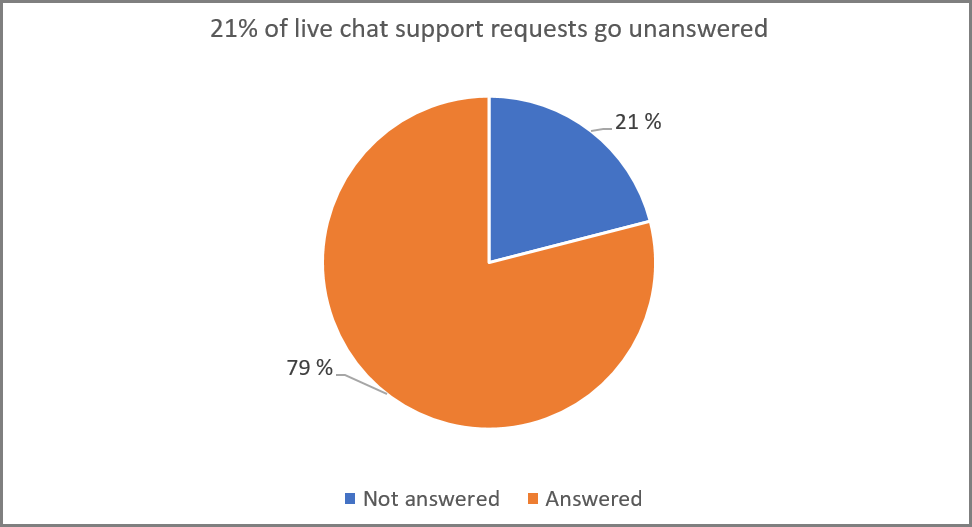 Although a digital channel, chat is similar to a phone call. With email, customers expect a response within 6 hours. With chat, customers' expect an immediate response.
One way to respond to all chat requests is to only offer chat as option when you have the resources to manage them. This can be as easy as turning it on or off, depending on the availability of your team.
Another way is to prioritize chat requests over email, social media and forum requests. Just like a phone call, chat requests should be answered as quickly as possible – not ignored. The more chat requests you ignore, the more customers' you frustrate. And that will only lead to higher churn rates.
2. Reduce chat time by using pre-written templates
People hate waiting.
This applies to real life and online.
In fact, a long wait time is cited as one of the main reasons why a customer stops doing business with a company!
The average chat wait time, which is calculated by how long it takes for a chat agent to respond once a chat has been initiated, is 2 minutes and 40 seconds. While several chats agents were able to respond within 30 seconds (delivering a positive customer experience), the longest wait time recorded was 9 minutes.
That's long time to keep your customers' waiting!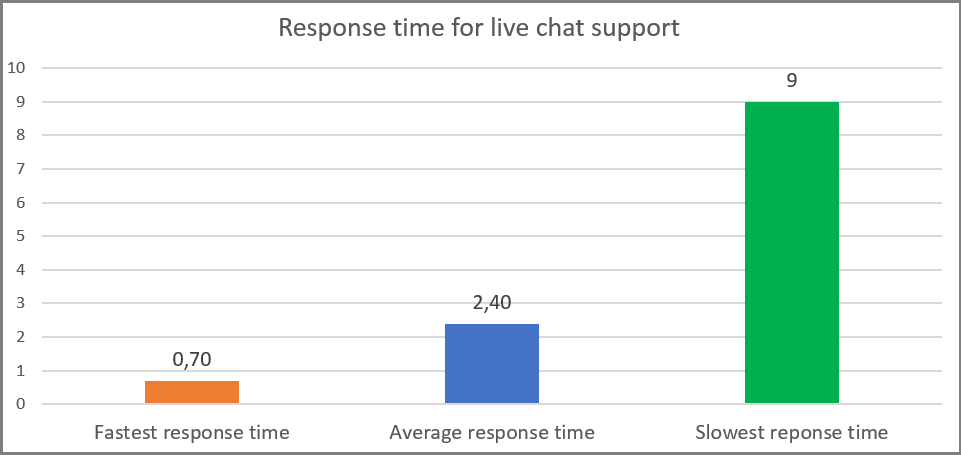 Companies that were able to respond quickly often used pre-written templates as soon as a chat was initiated. For example, instead of searching for an answer to a question immediately, several chats began with a variation of the following template:
Hi, How can I can help you?
Hi. We'll be with you shortly.
Hi. Welcome to [company name] chat. How can I help you today?
Using a welcome template gives an agent the opportunity to switch over from answering an email or social media request to handle the chat – making it a priority.
A pre-written template reduces the wait time, but you can also use templates to reduce average chat handle time, which is almost 7 minutes. For example, you can create templates for the most common questions in order to respond quickly. And where possible, include links to more detailed information on your website, rather than having to manually type a response.
3. Get personal with your customers
According to a study by Ovum and Opinium Research, 52% of consumers say they view companies more favorably when customer service is more personalized to them and their interests.
This is why it is surprising to find that 23% of companies do not ask for contact information upfront before a chat begins.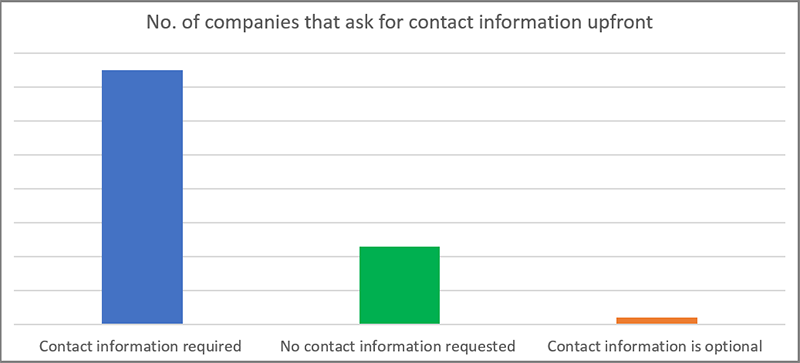 No contact information means that a chat agent does not know who he is communicating with. Asking for a name or email address upfront allows your agent to collect valuable information from your CRM system that can be used to provide a more personalized service experience.
Instead of asking the user to wait while the agent retrieves his customer profile, he has the information already at hand. This leads to a shorter chat handling time and a faster response, which is considered the most important element to creating the ideal customer experience, according to a study by Economist Intelligence Unit.
4. Create a long-lasting positive experience
When a chat ends, instead of seeing it as a "completed task", use it as a way to create a long-lasting impression with your customers. This can be done in the form of sending a copy of the chat conversation to the customer by email.
This is known as the chat transcript. Having a copy of the chat in their email inbox allows the customer to revisit the conversation at any time. Unfortunately, transcripts were rarely offered.
More than half (55%) of all chats requests did not offer the option to provide a transcript of the conversation.
Of course, it's easy to blame the software here. If it doesn't allow you send a copy of the conversation, they it's not your fault, right?
Wrong.
Agents can easily make a copy of the conversation and send it in a follow up email to the customer. Out of all 1,000 companies, only one company took the initiative to do this. It's this kind of service (a WOW factor) that creates happy and long lasting customers!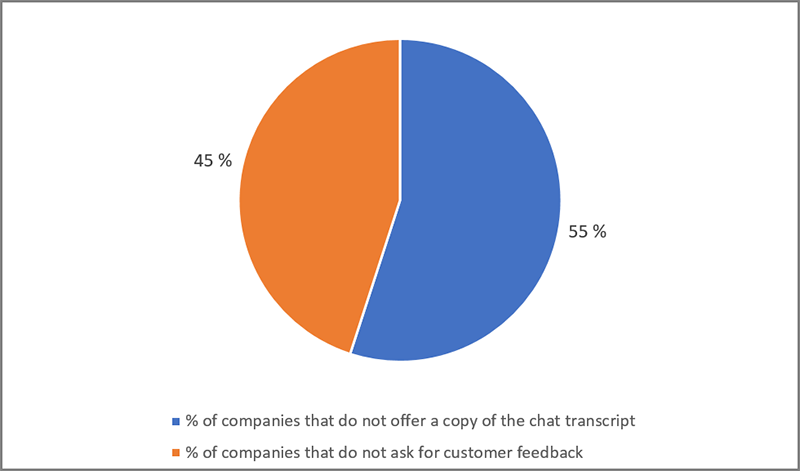 Post-chat is also a great time to ask for customer feedback. Forty five percent of companies failed to ask for feedback once the chat had ended. Was the chat helpful? Were customers happy with their experience? If you don't ask them, you will never know. Having access to this kind of data helps you identify problem areas, fix them and improve.
Conclusion
Live chat support only works if there's someone behind the software to respond to customers.
Before investing in live chat, you need to allocate resources to handle the requests. Otherwise, you end up with an empty customer service channel. Once your agents are available, you then need to prioritize all incoming requests and respond quickly using templates.
Each time a chat ends, you have the opportunity to WOW your customers with a post-chat experience. This can be in the form of providing an email copy of the conversation for future use, or by following up with the customer and asking for feedback – helping improve not only the chat experience, but the overall customer experience.
A good customer experience creates happy and loyal customers. For more tips on how to keep your customers loyal, download our free customer loyalty white paper.