Every sales manager wants to deliver on budgets and have a target-driven and results-focused sales team.
But staying in control of the sales pipeline and successfully managing a sales team is not only about the numbers.
Every organization has its own methods and processes and every sales agent is different.
Staying on top of the sales goals and objectives, while also keeping every member of the team motivated and productive – is no small task.
So, what separates high-performing sales teams and their managers from the underperformers?
According to a study by Harvard Business Review of over 800 salespeople and sales leaders, and interviews with over 1,000 top salespeople from some of the world's best companies, "52% of high-performing salespeople identified themselves as power users who take full advantage of their companies' CRM technology."
Here are three ways sales managers can use SuperOffice Sales to create their own high-performance sales teams.
1. Formalize your sales processes
Studies show that there is a direct correlation between effective sales pipeline management and revenue growth.
According to Harvard Business Review, companies that defined themselves as having an effective sales process reported a 15% increase in revenue growth compared to companies that didn't.
Furthermore, companies that mastered three specific pipeline practices – a clearly defined sales process, spending at least 3 hours a month on pipeline management, and training sales managers on pipeline management – saw 28% higher revenue growth!
So how do you create a formal sales process?
The smartest way to manage your sales pipeline is to use a CRM system.
Start with clearly defined stages and milestones that both correlate with your customers' buying journey and that your entire sales team understands and is on board with. Map out the key stages and outline exactly what needs to happen at each stage and provide all the necessary protocols and documentation that your sales reps will need at each phase.
With SuperOffice CRM you can use our sales guide templates or set up one that mirrors your own process. Design a sales guide that incorporates your organization's best practices and ensures your teams are all working in a consistent and structured way.
The sales guide will provide your salespeople with all the support and instruction they need at each stage of the sales process by automatically providing task details, suggestions and templates for documents that need to be created, as well as highlighting follow-up activities that need to be performed.
Without one, you'll need to manually track every sale and guide every agent, to ensure that the right steps are taken at each stage, and that the right documents are being sent. This will not only take up a lot of your time and energy, but also create bottlenecks for your team. Ultimately, slowing down the entire sales process.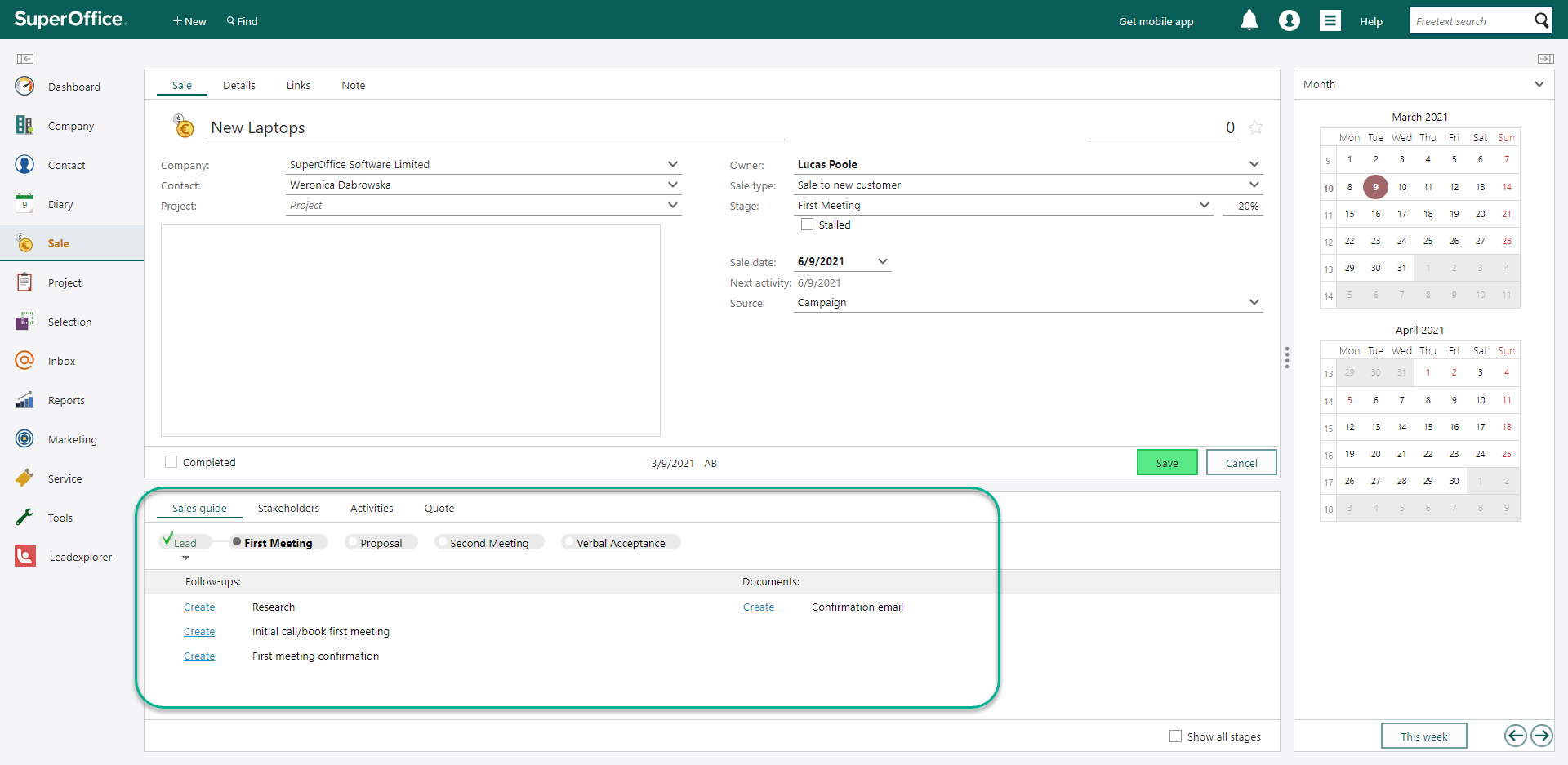 Caption 1: SuperOffice CRM comes with existing sales guide templates that you can start using straight away or build on to reflect your own sales process.
It is important to note, though, that there is no single sales method or process that trumps the rest. A multi-year study by The Florida State University Sales Institute, that set out to answer the question "What is the best sales methodology", discovered there isn't one.
Regardless of a company's size, industry, geography or any other factor, using a single sales methodology consistently led to lower performance than combining approaches from more than one method.
Further, sales training company, Vantage Point, highlights that 75% of the time a "one size fits all" sales method approach results in failure.
The key here is "sales agility". Invest the time to create and develop different sales processes that not only reflect the breadth of your products and services, but your differing customer profiles and differing customer situations too. By steering away from a generic sales approach, you will steer away from delivering generic sales results.
2. Create a single point of truth
Accurate sales forecasting plays a critical role in the success of any company.
An accurate sales forecast will not only tell you whether you are on track for revenue targets, but it will also give valuable insights into other areas of your business, such as resources management, budgeting or hiring.
For example, if sales of your software system are forecast to take a 30% increase, you will need to make sure you have the staff and resources to carry out timely implementation and training, as well as offer service support for the increase in new customers.
Yet many sales managers struggle to create forecasts that represent a realistic view of their sales pipelines.
What you need is a single point of truth for you, your sales team, and your organization as a whole. And that point is the CRM system!
The data you collect in your CRM will record and track all your key sales information, including set targets, deal values, deal status, customer profiles, and so on.
But, storing a bunch of data alone doesn't do the trick!
With the help of CRM, you can generate accurate pipeline and forecast charts and reports from this data, and know exactly where you stand with your revenue targets. This, in turn, will allow you to make more informed decisions and implement data-driven strategies to boost performance not only for your team, but across the company.
SuperOffice CRM comes with a range of predefined reports and dashboards, based on those most used by our own sales. They will make it easier for you to visualize your progress and get the most out of your data. Of course – you can customize and personalize them to match your sales needs!
In just a few clicks you can get instant, real-time overviews of what your sales pipeline looks, what deals you'll be closing and when, and what your team's activity levels look like.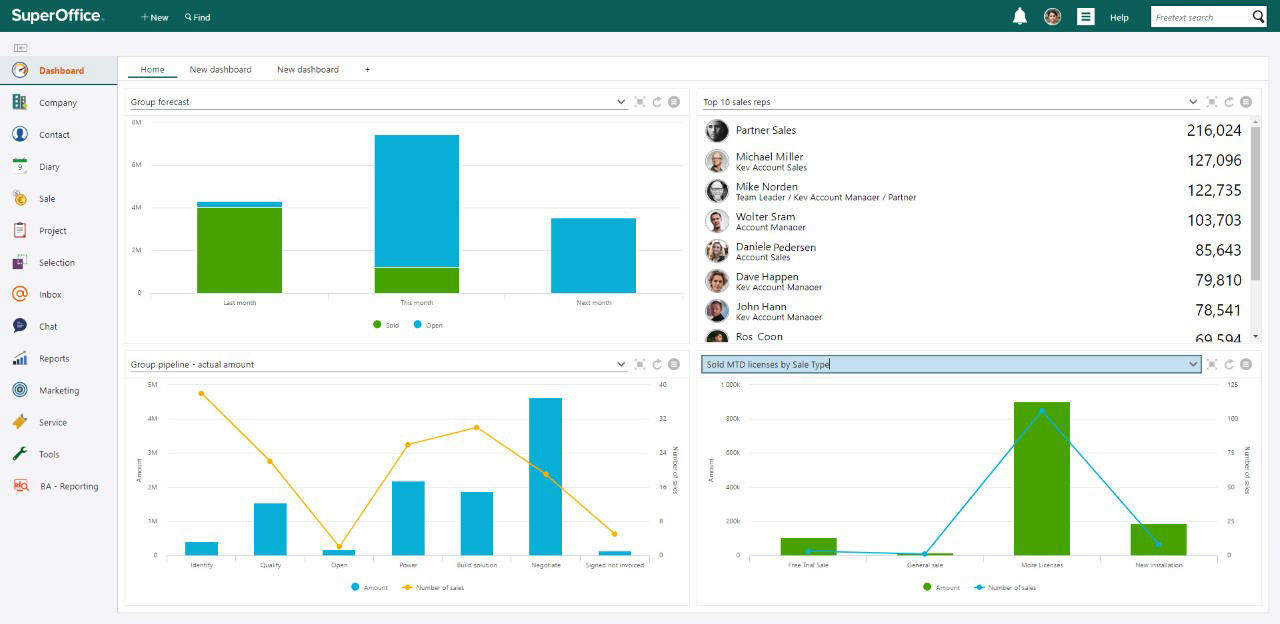 Caption 2: Use SuperOffice CRM dashboards to get instant, real-time overviews of what your sales pipeline looks like.
Besides knowing where you stand in your sales progress, such data analysis will also help you monitor and identify where you may need to improve or resolve process issues, as well as how you can leverage new opportunities.
Say goodbye to manually updating dozens of excel sheets and working in silos with no real overview of how your team or organization is performing. Or, worse still, losing valuable customer or potential sales information when one member of the team moves on.
3. Connect your sales funnel
For a sales teams to work effectively – namely close more deals – every stage of the sales funnel needs to be connected, transparent and accessible.
From prospecting and lead generation to sales and quotations, right through to implementation and customer support, CRM software provides a single platform to enable this to happen.
With SuperOffice Chat you can connect and start collecting customer information right from the first website visit. Research shows that customers are more inclined to purchase products from a business that engages them and personalizes their experience.
When you've worked hard on a deal, the last thing you want to do is to lose momentum (or kill the sale) because you need time to run between departments to get correct prices and place orders.
Since SuperOffice CRM can be connected to your ERP solution, you can rely on SuperOffice Quote to quickly come up with a sales offer. Connected to up-to-date product price lists in your ERP system, the system will calculate the quote directly in your CRM.
As a salesperson you can be confident that you will always include the latest and correct details. And once the quote becomes an order, the information can be automatically sent back to your ERP system for invoicing – helping to both seal the deal and cash in on the sale faster.
But it gets even better – once the quote is sent, your sales pipeline will automatically be updated, increasing the accuracy of all your forecasts too.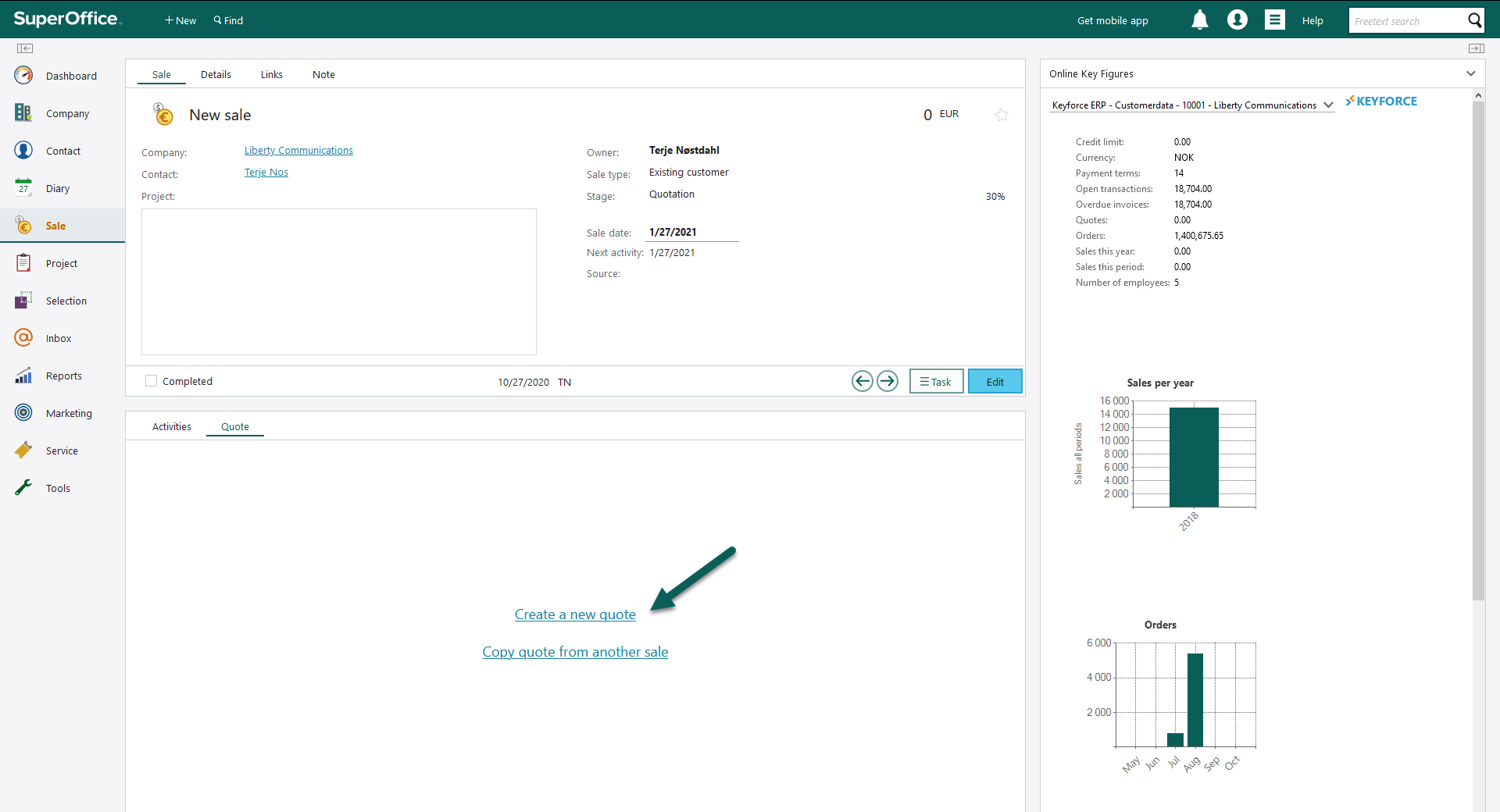 Caption 3: Connect your sales process with your ERP system, so you can calculate a quote directly from your CRM.
Moreover, SuperOffice CRM users can directly connect with other departments in the organization via inbuilt Project management tool.
For example, you can connect the last tasks on your sales guide with the team that will carry out delivery of the product or implement the service. Giving that team access to all necessary customer documentation will ensure a smoother handover process and better customer service.
Finally, SuperOffice CRM also offers a 360-degree view of every customer and prospect. First of all, it helps to better coordinate the activities of sales, marketing and service teams, and seamlessly exchange valuable customer-related information – be it conversations, marketing communications, service requests, or previous purchases.
Secondly, it helps you offer more relevant and personalized service at every customer contact point, helping to build and strengthen relationships and trust.
All of this, in turn, will increase the chances of closing new deals, as well as cross-selling, upselling, or referral selling opportunities.
Conclusion
To succeed with your sales budgets and your sales teams, ultimately, you need to take control of your sales pipeline.
To do this, you need to implement the sales processes that can be mapped, tracked, and monitored, as well as have your entire team onboard.
Further, you need to connect your processes with other teams in your organization. This will not only create a more effective and streamlined process for your team but across the organization as a whole.
It will also ensure a better experience for your prospects and customers.
By leveraging CRM and integrating these best practices, you can look forward to hitting your forecasts, beating your targets, and seeing your team win more deals.
Book a demo with one of our CRM experts and we'll show you how SuperOffice CRM can help you achieve your revenue goals.