There is no doubt that digital is the rocket fuel for business growth. And those organizations that use it effectively enjoy five times the growth compared to those who are not at the cutting edge of digital adoption.
Just take a look at a company like Amazon, for example. They use data, machine learning and AI to create a cohesive customer experience through their different online businesses. From the comfort of your own home, you can visit the Amazon Go store to get a few items for dinner, ask Alexa to look up a recipe, while the product recommendation engine can suggest that you need to purchase a certain type of saucepan.
Innovative companies like Tesla, Google and Apple are also taking advantage of the new technologies and creating solutions for business growth.
And rest assured, as fast as you see technology changing in the B2C world, the same can be said for the B2B world.
Mark Cuban, billionaire and star investor of the show "Shark Tank" puts it like this: "We will see more technological advances over the next ten years than we have over the last thirty. It's just going to blow everything away."
The new standoff – Human vs. Digital
Given all of this, there are many who wonder if robots and machines will replace humans one day.
Maybe.
But we don't believe that it will be anytime soon.
AI, machine learning, chatbots and all sorts of other technological innovations, can, for example, handle repetitive tasks, automatically enter data into different systems, analyze large amounts of data quickly, guide with predictive analyses and even close transactional sales.
But there is something that humans can do that these emerging technologies cannot do, and that is – to be human.
Do things that don't scale
"Do things that don't scale," originally penned by Paul Graham in 2013, has become the rallying cry for start-ups and growing businesses to stay human rather than automate.
Is this statement correct? Yes and no.
We often hear that customers don't want to be treated like a number. They want personalization, authenticity, empathy, and value-driven conversations – all human traits and not something that can be easily scaled.
At the same time, they want to do their own online research, prefer chats to live phone calls, and when they have a question, they want it answered quickly and promptly. They get frustrated by slow turnaround times. And slow, in this case, means more than 24 hours – exactly the things that digital technologies can help with, at scale.
Seems like a paradox, doesn't it? So, how do you find the balance?
Putting the human into the digital: How we do it in SuperOffice
The best thing that any company can do is to embrace this new reality and figure out how to make human and digital work together and not against each other because customers want both.
In a recent survey of 100 B2B sales organizations, McKinsey found out that the majority of B2B customers want to experience both human and digital interactions during their buying journey.
But what they want depends on where they are in their customer journey.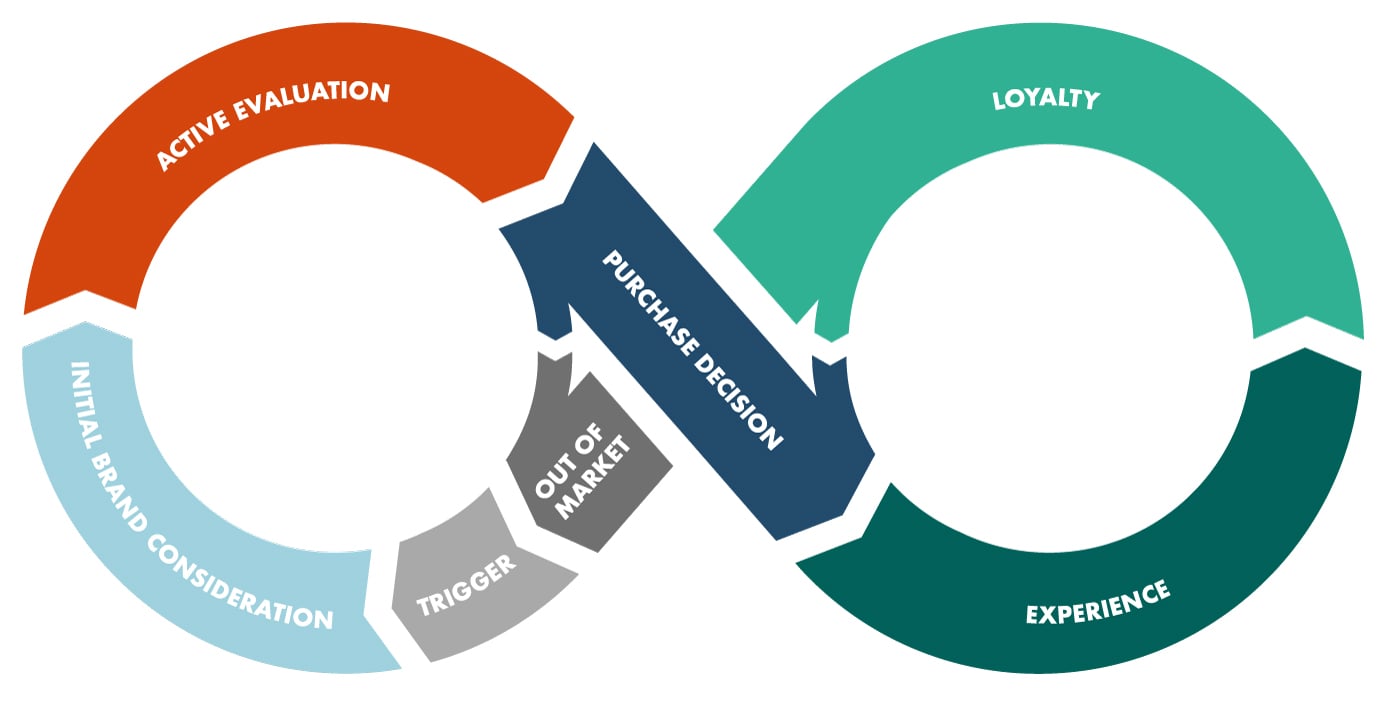 How do you combine human and digital in a way that is valuable to your customers and align it to their customer journey?
Since our customers don't want "either / or", we always include an element of both. And depending on where the customer is in the journey, we put more weight on either the digital or the human part.
Let's take a look at how we do it in SuperOffice:
1. Supporting the Research phase
When a buyer is in the research phase of the customer journey, we find that they lean more towards digital resources, whether it's through the website, blogs, research reports, video content, case studies, or 3rd party peer reviews.
At this stage, therefore, we create a lot of value-added content with the purpose of educating, informing, or meeting a searcher's needs. We consciously choose to speak in an authentic tone of voice because buyers are looking for human brands these days.
We never pretend to be something that we are not. And we never talk about ourselves unless it's to share how we do something (like this article), in the hopes that it will inspire you.
Since potential buyers aren't on just one channel anymore, you will find us sharing useful content, asking questions, providing advice and inspiration on a variety of digital channels: from email and targeted advertising, to direct mail and social media.
Buyers in this phase like to attend in-person events for inspiration. We host either our own in-person events or attend shows where we can share stories and ideas for how to grow and improve business in the topics of sales, marketing and service.
2. Supporting the Consideration and Active Evaluation phase
Although the divide between B2C and B2B is closing quickly, there are still differences between the two.
B2B is inherently more complex. ROI matters a lot in B2B. And when it comes to B2B buyers, they want efficiency and expertise above all; therefore, the purchase process tends to be driven more by logic and financial incentives.
In addition, there are more decision-makers involved in a B2B buying process and the buying process often can take 3-6 months and sometimes even more.
All of this means that it is the highly skilled sales force that adds the most value, with digital tools as support. Here, buyers are looking for salespeople to be real experts and provide consultations.
Therefore, we believe that at this stage – the best way to add value is to become a trusted advisor.
For us, relationships come first. Although virtual meetings can be just as effective, we prefer face-to-face meetings with our customers. When we meet, we have the chance to shake your hand, give you a feeling of who we are and give you a chance to evaluate how we are as a business partner.
We never walk into a meeting to just talk about technology features and functions or with a preconceived answer to what you need in terms of a technology solution.
Our goal in every meeting is to listen to our customers, ask questions to understand their business challenges and needs better and, together with them, come to a conclusion what next steps to take with regards to what kind of solution you need, how we align it to your different processes and what people you will need to have as part of the project.
If you need to do a quick price calculation or execute a free trial, we have digital tools on hand to help you do that. And, of course, when you're ready to sign a contract with us, it can be done digitally.
There is no need to send a contract back and forth through email.
Because purchasing a CRM system is a serious business investment, it is important for us that our customers feel comfortable and secure.
Finally, in this phase, our customers get the chance to meet their implementation team, ask questions, put names to faces so that they always have someone to contact if they should have any questions regarding what will happen after the purchase.
3. Supporting the Experience phase
CRM software is not one of those apps that you can just download and then voila, away you go. It is an application that your whole company will use. In essence, it involves a change in people, processes, as well as technology.
In order for our customers to achieve CRM success, we firmly believe that they will need help.
In the beginning, that help comes in the form of the human touch, and after our customers are established and feel comfortable, the digital tools take over.
This human touch comes in the form of a personal implementation team.
For every new customer, we advise the right amount of consulting help. During this time, we will work together with the customer to design a solution around their unique business goals and needs, help them configure and integrate the system to their processes, conduct the data import and be on hand to train and coach their entire company.
Of course, there are many customers who think that they will achieve success without help from us. Because, let's face it, it's an extra cost to purchase consulting help.
Honesty is one of our core values. And even if it means we may lose the deal, we will still strongly advise our potential customers to purchase some consulting services. We don't do this because we are trying to make a buck. We do this because we want all of our customers to be successful and to see the ROI.
And if customers need additional onboarding help after the system is implemented, we've got digital support available in the form of the Support Center, the Customer community, Product help files, and in-app support. We are constantly working on these digital platforms to make them better and more valuable.
We also offer online and customized trainings, product webinars, webcasts and seminars to help our customers get more out of the system.
4. Supporting the Loyalty phase
The post-purchase phase is all about speed and convenience. Customers are looking for a digital place where they can easily find answers to their problems, smarter search tools, relevant FAQs and fast responses to their submitted inquiries.
Support Center and in-app registration. These are the first places customers would go to seek help. They can register a support ticket online on a dedicated portal, send an email and simply make a call.
But the most convenient way to register a customer service request is through the in-app registration, which allows you to register your inquiry right inside the SuperOffice CRM. Just press the button and tell us what's wrong!
In-app customer service automatically collects such information as the CRM version, operating system and browser information that a customer uses. This way, they won't have to stress looking this information themselves.
Self-service tools. We offer 24/7 self-service opportunities for those who prefer to look for answers online. Our customers can access our Knowledge Base that contains a plethora of FAQs and other supporting information.
They can also go to the Community straight from their CRM application, and find product tips and tricks, articles, training material, software downloads, latest release information, and much more.
However, the Loyalty phase also has a lot of human element in it.
For example, customers prefer human touch if they want to fine-tune or develop their CRM solution to make it better fit the way they work. We see that many companies like to do this on an annual basis to keep their system and processes up-to-date.
Since, customer happiness is super important to us. This is why we have a Customer Experience (CX) team whose sole job is to inspire our customers and help them get the most out of the solution.
We made it into a commitment that all of our customers will receive a visit or a follow-up phone call from a CX person at regular intervals. The purpose of our CX activities is to listen, to help and inspire. Our customers can expect to NOT be sold to during those meetings.
And, of course, if customers want to reach a live agent, all they need to do is to register a request and depending on the issue reported, we personally get in touch. Because sometimes... you just can't resist having a live person on the other end.
Finally, we want to know if we're doing a good job or not. To measure this, we use the Net Promoter Score (NPS). We encourage all of our customers to tell us what they think. It is only by listening to our customers' feedback that we can improve and grow.
Do things that matter
There is no doubt that digital transformation is a key driver of business growth. And if companies want to grow in the future, they have to adapt to this new reality.
It used to be that the greatest thing we did was to land a man on the Moon. Today, we're all talking about how AI, voice-recognition and chatbots and wondering how we use these kinds of technologies to improve our business.
Through all these changes, it's important to remember that technology is just technology. And no matter how wonderful it is, it still cannot substitute people despite all their flaws and limitations. Because, whether B2B or B2C, people still buy from people!
People still yearn for personalization, for empathy, for the human touch. They just don't want to do it in the old-fashioned way. What people want today is a new kind of experience that combines the greatness of digital and human experiences.
So, here is our advice. Where customers need acceleration, instant answers, round-the-clock services – dive into the digital mode. Where they need advice, expertise, ability to carefully weigh in their options – offer your wholehearted attention through consultations, trainings and demonstrations.
The trick is to find where in the journey you customers value more digital or human interaction. And once you've figured that out – invest your time and effort there.
By doing that, you too, will be putting the human into the digital.
For more best practice tips, please visit us our Resources section.